SIGNATURE BODY TREATMENTS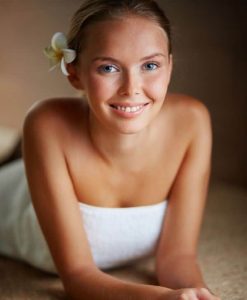 Royal Moroccan Scrub (90 min)

$235

Treat yourself to our signature spa treatment that is sure to leave you relaxed, rejuvenated and regenerated! Our Moroccan Hammam treatment starts with an exhilarating steam and dry heat and vibration massage in our state of the art pod. Afterward, an all natural Moroccan black soap is massaged into to the skin, followed by a full body scrub with a Moroccan Kees (glove). After your rinse, a Moroccan clay (Ghassoul) mask is applied. Finally, organic Moroccan Argan oil is rubbed all over the body resulting in baby-like smooth skin. Please let us know if you are pregnant or have any health conditions we should be aware of.

Our Signature Moroccan Hammam Treatment Includes:

• Steam, Dry Heat and Vibration Massage in our State of the Art Pod
• Moroccan Black Soap Massage
• Moroccan Kees (glove) Full Body Scrub
• Ghassoul Mask (Moroccan Clay)
• Moroccan Argan Oil Full Body Rub

Moroccan Body Scrub (60 min)

$200

Treat yourself to our signature spa treatment that is sure to leave you relaxed, rejuvenated and regenerated! Our Moroccan Hammam treatment starts with an exhilarating steam and dry heat and vibration massage in our state of the art pod. Afterward, an all natural Moroccan black soap is massaged into to the skin, followed by a full body scrub with a Moroccan Kees (glove). After your rinse, an organic Moroccan Argan oil is rubbed all over the body resulting in baby-like smooth skin. Please let us know if you are pregnant or have any health conditions we should be aware of.

Our Moroccan Body Scrub Treatment Includes:

• Steam, Dry Heat and Vibration Massage in our State of the Art Pod
• Moroccan Black Soap Massage
• Moroccan Kees (glove) Full Body Scrub
• Moroccan Argan Oil Full Body Rub


Honey/Blue Bamboo Exfoliating & Detoxing Scrub/60 min

$160

The Honey Exfoliating and Detoxing body treatment is perfect for dry or dehydrated, loose, itchy skin. The honey acts as a booster to the blood circulation, all while peeling off the dead skin cells. The antioxidant effects of honey protects the skin from premature signs of aging, and its natural antibacterial traits are perfect for acne breakouts. Honey is also extremely moisturizing and soothing. Please let us know if you are pregnant or have any health conditions we should be aware of.

Our Honey Exfoliating and Detox Body Scrub Includes:

• Steam, Dry Heat and Vibration Massage in our State of the Art Pod
• Honey Scrub
• Mud Mask
• Appropriate Massage Cream/ Oil

Firming and Shaping Body Wrap (60min)

$150

This body treatment not only will leave your body smooth and your mind relaxed but also help tighten and improve the appearance of skin texture and cellulite. Please let us know if you are pregnant or have any health conditions we should be aware of.
• Steam, Dry Heat and Vibration Massage in our State of the Art Pod
• Honey/ Blue Bamboo Exfoliation Scrub
• Firming and shaping wrap ( Buttocks & Thighs area)
• Appropriate Cream/ Oil massaged into the rest of the body
                                                                                                                                         Spa Packages Cancellation policy
Please note that a 50% deposit is required at the time of booking. This deposit is non-refundable once entering the grace period of 72 hours prior to your scheduled appointment. Any changes or cancellation to your appointment less than 72hours prior to your appointment will result in loosing the deposit.
Most of our facials are European style
This treatment is good for all skin types. The effects hydrate, soften and repair lips that may be dry and chapped.

Firming Neck and Decollete Treatment

$42

Rich in antioxidants and phytoestrogens, this treatment option will firm, lift, and tighten the skin resulting in more youthful appearing neck and décolleté. Hydrate the dry, thinned skin of aging neck and décolleté while stimulating collagen production to increase elasticity

Rejuvenating Hand Mask

$42

This treatment include a hand exfoliation, followed by a hydrating mask, and finished with a relaxing hand massage

LED Light Therapy

$50 & up

LED light therapy is a painless, relaxing, non-invasive treatment that has multiple benefits particularly promoting collagen uptake, minimizing fine lines, wrinkles, pores, reducing sun damage, and treating mild to moderate acne. LED light therapy is highly effective when part of a series. We recommend six treatments one to two weeks apart, followed by a monthly or bi-monthly maintenance appointment.
WHAT IS NANO-INFUSION THERAPY?
This facial includes steps from our Deep cleansing facial. It also include the unique nano technology. Nano Treatment consisted of the use of a special pen/ equipment that delivers thousands of micro-channels per minute created on the top layer of skin, this helps drive in the topical product, which allows for up to 97% better product absorption. You will notice extra glow, plumped and firm skin following your treatment. This facial requires no down time, however a skin consult must take place prior to scheduling.

Red Carpet Facial Series ( 3 sessions)

$638

Décolleté ( With Red Carpet Facial)

$42

This treatment is great for a more plumped and firm Neck and decollete.

Eyes and Lips (with Red Carpet Facial)

$42

This treatment is great for a more plumped lips and youthful eyes area.