SIGNATURE BODY TREATMENTS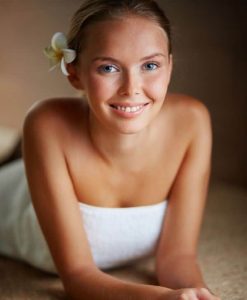 Royal Moroccan Scrub (90 min)

$185

Treat yourself to our signature spa treatment that is sure to leave you relaxed, rejuvenated and regenerated! Our Moroccan Hammam treatment starts with an exhilarating steam and dry heat and vibration massage in our state of the art pod. Afterward, an all natural Moroccan black soap is massaged into to the skin, followed by a full body scrub with a Moroccan Kees (glove). After your rinse, a Moroccan clay (Ghassoul) mask is applied. Finally, organic Moroccan Argan oil is rubbed all over the body resulting in baby-like smooth skin. After your Moroccan Hammam, you are invited to enjoy a fresh Moroccan mint tea and snacks in our relaxation room.

Our Signature Moroccan Hammam Treatment Includes:
• Mini Facial (If wearing little/no makeup)
• Steam, Dry Heat and Vibration Massage in our State of the Art Pod
• Moroccan Black Soap Massage
• Moroccan Kees (glove) Full Body Scrub
• Ghassoul Mask (Moroccan Clay)
• Moroccan Argan Oil Full Body Rub
• Moroccan Mint Tea & Snacks in our Relaxation Room

Moroccan Body Scrub (60 min)

$145

Treat yourself to our signature spa treatment that is sure to leave you relaxed, rejuvenated and regenerated! Our Moroccan Hammam treatment starts with an exhilarating steam and dry heat and vibration massage in our state of the art pod. Afterward, an all natural Moroccan black soap is massaged into to the skin, followed by a full body scrub with a Moroccan Kees (glove). After your rinse, an organic Moroccan Argan oil is rubbed all over the body resulting in baby-like smooth skin. After your Moroccan Hammam, you are invited to enjoy a fresh Moroccan mint tea and snacks in our relaxation room.

Our Moroccan Body Scrub Treatment Includes:

• Steam, Dry Heat and Vibration Massage in our State of the Art Pod
• Moroccan Black Soap Massage
• Moroccan Kees (glove) Full Body Scrub
• Moroccan Argan Oil Full Body Rub
• Moroccan Mint Tea & Snacks in our Relaxation Room

Honey Exfoliating and Detoxing Scrub(60 min)

$135

The Honey Exfoliating and Detoxing body treatment is perfect for dry or dehydrated, loose, itchy skin. The honey acts as a booster to the blood circulation, all while peeling off the dead skin cells. The antioxidant effects of honey protects the skin from premature signs of aging, and its natural antibacterial traits are perfect for acne breakouts. Honey is also extremely moisturizing and soothing .

Our Honey Exfoliating and Detox Body Scrub Includes:

• Steam, Dry Heat and Vibration Massage in our State of the Art Pod
• Honey Scrub
• Mud Mask
• Appropriate Massage Cream/ Oil
• Tea & Snacks in our Relaxation Room
Aroos Bridal Package (3 hours)

$275

Get ready for your big day with a relaxing day at the spa. Our bridal package includes a fully customized facial, in addition to our signature Moroccan hammam treatment. The Aroos (Bride) can also gift/purchase mini facials for her bridesmaids at a special rate. The bride can also choose to have a mini bridal shower at our spa by booking our space, we can provide snacks, mini facials, henna tattoo, and other unique services. (Rates based on the number of guests and services). Please call for details.

Our bridal package includes:
• Fully Customized Facial
• Steam, Dry Heat and Vibration Massage in our State of the Art Pod
• Moroccan Black Soap Massage
• Moroccan Kees (glove) Full Body Scrub
• Ghassoul Mask (Moroccan Clay)
• Moroccan Argan Oil Full Body Rub
• Moroccan Mint Tea & Snacks in our Relaxation Room

"Nfisa" is a Moroccan term for a woman who recently gave birth. At My Moroccan Spa, we understand the lifestyle change, the added responsibilities that come with a new baby and how stressful it can become. Therefore, we created a package specific to address a Nfisa's needs. This package is similar to our signature hammam treatment, with the addition of a fully customized facial and a full body rub using herbal infused oil. We understand how difficult it could be to find some "me time" when you have a newborn, so we'll be sure to schedule a time that works for you where you could bring your baby with you...after all, we want to meet your new bundle of joy!!

Our Nfisa package includes:
• Fully Customized Facial
• Herbal Infused Oil Full Body Rub
• Steam, Dry Heat and Vibration Massage in our state of the art pod.
• Moroccan Black Soap Massage
• Moroccan Kees (glove) Full Body Scrub
• Ghassoul Mask (Moroccan Clay)
• Moroccan Argan Oil Full Body Rub
• Moroccan Mint Tea & Snacks in our Relaxation Room
Massage & Facial Services
All of our facials are European style
An experience of stillness…. Drift off on a warmed bed as your therapist melts away stress. Massage treatments deliver a therapeutic, relaxing massage to promote priceless health benefits.

Swedish Massage (30 min, 60 min, 90min)

$60, $90, $140

A classic massage using long, fluid strokes that allow the body to absorb oxygen and detoxification; this massage therapy will energize the body and goes beyond relaxation.

Aromatherapy Massage (30 min, 60 min, 90min)

$70, $105, $160

A Swedish using aromatic essential oils to promote a deep sense of calm; this massage therapy allows you to relax, rejuvenate and regenerate.

Deep Tissue Massage (30 min, 60 min, 90min)

$75, $115, $170

A therapeutic massage using penetrative pressure points that encourages muscles to release tension; this massage therapy releases deep-seated physical stress and tension. Great for athletes.

Hot Stone Massage (60 min, 90min)

$120, $175

A deep muscle massage that uses heat from warmed volcanic stones placed at key points on the body; this massage therapy melts away tension, eases muscle stiffness and increases circulation and metabolism.

Prenatal Massage (60 min)

$125

A wonderful choice for prenatal care; focuses on the areas most affected by pregnancy; This massage is designed to nurture both mother and baby; deepens a sense of calm and relaxation and helps improve sleep.

Sports Massage (60 min, 90min)

$120, $160

A deep tissue massage that works deep in the muscles, realigning the muscle fibers and connective tissue to flush away the toxins; Regular sessions will increase joint mobility and flexibility and reduce inflammation.

Deep Cleansing Facial (60 minutes)

$115

Restoring balance and clearing skin of impurities, this treatment is good for all skin types especially problematic skin.

Teen Facial (45 minutes)

$99

Here at My Moroccan Spa we have designed a facial for teenagers that focuses on deep pore cleansing, exfoliating, and calming the skin. (Parents consent is required)

Teen Facial Package (45 minutes)

$299

Buy 3 teen facials get the 4th FREE. (Parent consent is required)

Ultra Sensitive System Facial (60 minutes)

$120

This essential oil free facial will leave even the most sensitive skin soothed, calmed, hydrated and refreshed. The ultra calming effects of yarrow and plantago even out redness in the skin and provide faster healing while vitamin C, chlorophyll, and grapeseed provide antioxidant protection. The Ultra Sensitive System products are dermatologist tested on the most sensitive skin.

Vegan Facial (60 minutes)

$135

Our facial skincare line is customized to meet the needs of your skin using organic ingredients that contain no animal by products. Your facial will be personalized based on your skin's needs using 100% organic and Vegan products.

Hyaluronic Time Erase Complex Facial (60 minutes)

$145

Nourishing ingredients such as calendula, marshmallow, and yucca blend with anti-aging hyaluronic acid and corn germ oil to combat aging in our premature skin. Plumping fine lines from within, the Hyaluronic Time Erase Complex moisturizes dehydrated skin and promotes collagen and elastin growth for beautiful, youthful looking skin

"24 Carrot" Facial (60 minutes)

$155

This richly hydrating facial calms and provides soothing antioxidants to dry, mature skin. Vitamin rich carrot and calendula nourish the skin while cantaloupe and sorb apple deeply hydrate. Phytoestrogens promote collagen to firm aging skin.

Parsley & Cucumber Oxygen-Lightening Treatment (60 minutes)

$155

Cooling cucumber and vitamin C rich parsley blend harmoniously in this refreshing and reparative facial treatment. The Cucumber and Parsley Oxygen Facial is a soothing, hydrating treatment which helps to heal damaged skin, lessen scarring, and even tone. The perfect facial option for someone seeking brighter, beautiful, healthy, glowing skin.
This treatment is good for all skin types. The effects hydrate, soften and repair lips that may be dry and chapped.

Firming Neck and Decollete Treatment

$35

Rich in antioxidants and phytoestrogens, this treatment option will firm, lift, and tighten the skin resulting in more youthful appearing neck and décolleté. Hydrate the dry, thinned skin of aging neck and décolleté while stimulating collagen production to increase elasticity

Rejuvenating Hand Mask

$35

This treatment include a hand exfoliation, followed by a hydrating mask, and finished with a relaxing hand massage

LED light therapy is a painless, relaxing, non-invasive treatment that has multiple benefits particularly promoting collagen uptake, minimizing fine lines, wrinkles, pores, reducing sun damage, and treating mild to moderate acne. LED light therapy is highly effective when part of a series. We recommend six treatments one to two weeks apart, followed by a monthly or bi-monthly maintenance appointment.
WHAT IS NANO-INFUSION THERAPY?
Full Facial and/or Neck

$179

Full Facial and/or Neck (Series of 3 Treatments)

$429

Eyes or Lips (add-on)

$70/ea